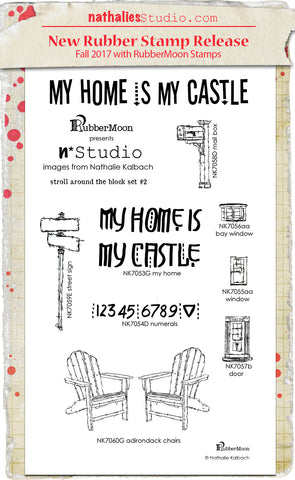 Nathalie Kalbach | NKSAB0208 | Stroll Around the Block Stamp Set 2
Nathalie Kalbach | Stroll Around the Block Set 2 | Rubber Art Stamps (Set of 8)
My Home is My Castle Set
The My Home is My Castle stamps are inspired by the iconic details of American neighborhoods that Nathalie has seen during her travels around the US. From the suburbs to the country, it is amazing how some things just never change. Do you remember what street you grew up on? What about the excitement when the mailman came? Or gazing out the window to see who might be at the front door?  Stamp the elements of home into the pages of your art journal and show us how YOUR home is YOUR castle in your mixed media projects.
This cling rubber stamp set includes the following stamps (all measurements are approximate):
Mail Box – .75"w x 1.5"h
Street Sign – .875"w x 2.5"h
My Home – 2.25"w x 1.25"h
Numerals – 2.375"w x .25"h
Bay Window -.625"w x .375"h
Window – .375"w x .625"h
Door – .625"w x 1"h
Adirondack Chairs – 3.25"w x 2.25"h
RubberMoon stamps are hand crafted rubber stamps, made in the USA.
---
We Also Recommend