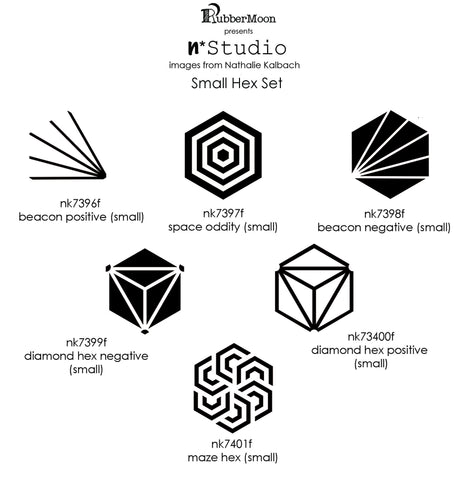 Nathalie Kalbach | NKSH06 | Small Hex Set
Nathalie Kalbach | NKSH06 | Small Hex Set (Set of 6 Rubber Art Stamps) 
Enjoy these hex designs in a small size with this rubber stamp set designed by Nathalie Kalbach. These stamps are perfect for creating intricate fields of pattern, continuous backgrounds, luscious layers, bold focal points and more. The positive and negative designs can be layered for beautiful results. This versatile and fun set is a great compliment to the hex designs in the large size too.
Each small hex stamp measures approx. 
1 1/4" x 1 1/4" 
This set includes the following small cling stamps:
Beacon Positive
Beacon Negative
Space Oddity
Diamond Hex Positive
Diamond Hex Negative
Maze Hex
RubberMoon stamps are hand crafted rubber stamps, made in the USA.
Sample by Nathalie Kalbach
---
We Also Recommend