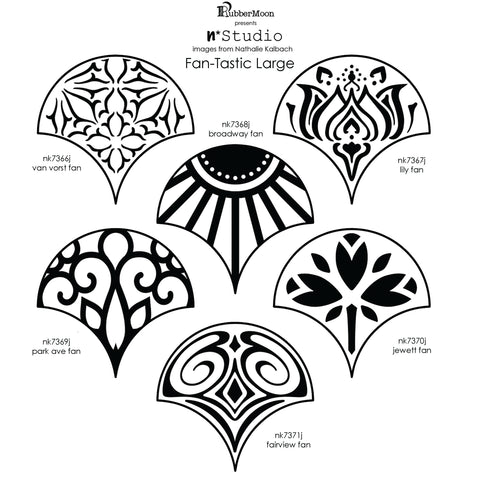 Nathalie Kalbach | NKFL06 | Fan-tastic Large Set
Nathalie Kalbach | NKFL06 | Fan-tastic Large Set (Set of 6 Rubber Stamps)
Enjoy these fan shaped designs in a large size with this rubber stamp set designed by Nathalie Kalbach. The fan stamps can be stamped in repetition to create fields of pattern, continuous backgrounds, luscious layers, bold focal points and more. The fan shape fits together in various ways to create different pattern structures. Designs are influenced by Art Deco, Art Nouveau, and Arts and Crafts motifs.  This versatile and fun set is a great compliment to the FAN-tastic set in the smaller size too.
Each large fan stamp measures approx. 
2 1/2" x 2 1/2" 
This set includes the following large cling stamps:
Van Vorst Fan
Broadway Fan
Lily Fan
Park Ave Fan
Jewett Fan
Fairview Fan
RubberMoon stamps are hand crafted rubber stamps, made in the USA.
------------------------------------------------------------------------------------------------------
*Samples by Nathalie Kalbach 
---
We Also Recommend