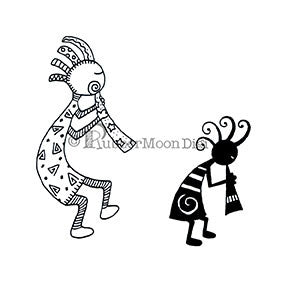 Effie Glitzfinger | EG111DG - Kokopelli Set - Digi Stamp
Kokopelli Set - EG111DG - Digi Stamp (Size varies--you can resize in a word processor or photo program).
*Instant Download, 300 dpi in jpeg format. If you want or need .png or .pdf please message us and we will send you the file you need otherwise the jpeg is an instant download and the link will be emailed to you right after the order is placed.
All images are created and owned by artist Kristen Powers c/o RubberMoon Art Stamp Co. a.k.a Kae Pea. 
Can I sell cards I hand make with RubberMoon Art Stamp Co. images?
Yes. RubberMoon is an Angel Company which means you are free to sell the cards you hand make with our images. Please give credit for image. 
What you are not permitted to do
You may not redistribute RubberMoon Art Stamp Co. images, including sharing, copying, lending or reselling them. RubberMoon Art Stamp Co. images are for card making/scrapbooking, mixed-media art work and personal use only and are not to be made into physical rubber stamps, die-cuts or any other derivative product, stencils, including card-making kits. May not be used for art for resale on print on demand sites such as Etsy, Zazzle, Cafe Press etc. 
Although you are purchasing our digital images, you are not purchasing the rights for reproducing the artwork, the characters or the digital images in any way. You may only use them for your hand made craft projects on a small scale, ie no mass produced items.
Please don't be a copy cat! Respect the copyright©
---
We Also Recommend